The Honourable Tony McGrady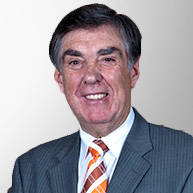 Tony McGrady is currently the Chair of the Queensland Plan Ambassadors Council.
Tony McGrady was born in Liverpool in the United Kingdom and moved to Mount Isa in Queensland before eventually being elected to Mount Isa City Council in 1973 and then as the city's mayor in 1985 and during this time served on the Local Government Association Executive and Cities and Towns Association Executive.
A member of the Australian Labor Party, Tony McGrady was elected to the Legislative Assembly of Queensland in 1989 as the member for Mount Isa.
He was Minister for Mines and Energy 1998 to 2001, moving to Police and Corrective Services in 2001 and to State Development and Innovation in 2004. On 9 August 2005, he was elected as speaker of the Legislative Assembly.
Tony McGrady was speaker until the next election was called on 9 October 2006, after which he retired from state politics.
On Australia Day 2009, Tony McGrady was awarded the Member of the Order of Australia for service to the Parliament of Queensland to the community of Mount Isa through local government roles and to youth training and development programs.
At the 2012 Queensland local government elections, he was again elected Mayor of Mount Isa and held the position until retiring in 2016.
Tony and wife Sandra McGrady currently reside in Mount Isa and have one son, Paul and a daughter, Susan.