Mr Taj Pabari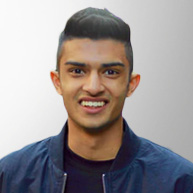 "From suspended schoolboy to educational pioneer. Taj Pabari is living proof that anyone with determination and passion can change the world."
Taj Pabari is a seventeen‑year‑old inventor, social entrepreneur and educational pioneer passionate about inspiring children discover and embrace the world of creativity through technology and innovation.
Taj has always been captivated by the world of business. From informally selling items during his free time and lunch breaks, he made his official entrepreneurial debut at the age of eleven, when he founded his first business, an electronic blogging site for children, by children. 300 articles later, the site was sold and was an inspiration behind starting his next venture.
In late 2014, Taj founded a social enterprise called, Fiftysix Creations, a build‑it‑yourself tablet and creativity kit for kids. As easy as a puzzle, as fun as a computer game. The organisation also runs workshops in schools helping ignite the creative spark in all students, regardless of age, demographic or knowledge base. Fiftysix Creations is now affiliated with over one hundred schools internationally.
To date, Taj has had his work and story featured by National Geographic, 60 Minutes, ABC, Sky News, Sunrise, CNBC, The Australian, Channel Seven, Channel Nine and Channel Ten. He is also the 2017 Young Australian of the Year - QLD.
Taj was the Winner of The Australian Young Innovator of the Year for 2014. He recently finished high school at Brisbane's John Paul College. When he is not chatting to students or 'working' on his ventures, he divides his remaining time between tennis and travelling.