Ms Karen Tully
South West Natural Resource Management Ltd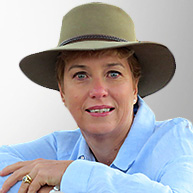 Karen Tully resides on the banks of the Warrego River at Charleville in South West Queensland. She is self-employed in her own rural and remote specialist consultancy business, which provides energy and direction to a myriad of projects that are implemented in rural Australia.
Karen and her husband also have a rural merchandise business based in Charleville. Whilst possessing a passion for the wonderful liveability and unique lifestyle that rural communities offer, Karen has actively sought leadership roles and representational positions where she can add value to rural communities. 
She is currently Chair of the South West Rural Financial Counselling Service and Rural Solutions Queensland; Deputy Chair of Red Ridge Foundation; Director of South West Natural Resource Management; Board Member of Queensland Water and Landcarers and President of the Charleville Arts Gallery. 
Karen is inspired by visions of what could be and the big picture of the future of rural Queensland is one that energises her.